Back to groups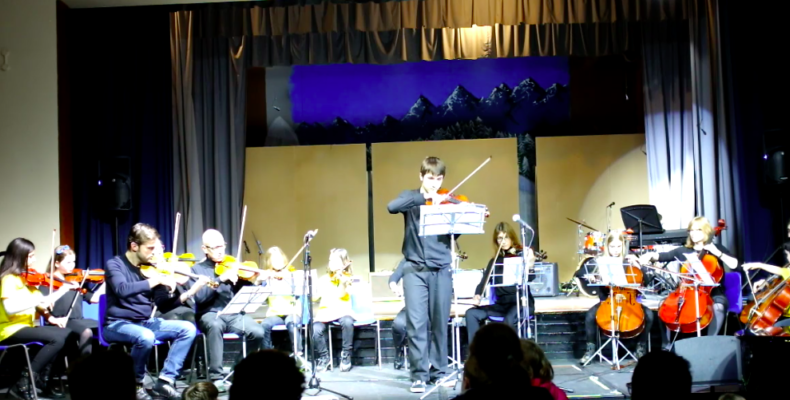 Strings
Beginner Strings - New
Starting in September 2023 - a strings group for young players up to grade 1.
Junior Strings
This starter ensemble welcomes strings players who can play in first position or are of grade 1 to grade 2 standard.
String Orchestra
This mixed-ability ensemble welcome violins, violas, cellos and double basses from grade 2 to grade 6 standard. They play classical repertoire and often collaborate with other ensembles for larger works.
Chamber Group
This new group focuses on the joys of Chamber music and is for more advanced players of Grade 6+ standard. Repertoire may include early music and collaborations with other senior musicians to perform piano trios, sonatas and larger chamber ensembles.
Teachers

Emma Arizza
Emma Arizza
Emma has recently won the Musicians' Company Award 2019 and she has been entitled to become a Yeoman of the Company and to join a Young Artist Program for the duration of five years. Born in Como, Emma regularly performs across Italy and the UK as a soloist and in different ensembles. She is currently based in London and has recently graduated from the Royal College of Music with distinction. Emma has been awarded a full scholarship for Master studies at the prestigious Trinity Laban Conservatoire of Music and Dance.
From her debut in Romania at the age of 16 with the Orchestra of Bacau in Sibelius Concerto for violin and orchestra, Emma's performances have taken her all around Europe, from France to Switzerland to Spain, Russia, Romania, Greece, UK and the Netherlands.
Upon attending masterclasses with the likes of Sergej Krylov, Zakhar Bron- in Sommer Academie Salzburg Mozarteum- and Tchaikovsky Trio, and performing in prestigious concert halls, including the Estense Hall in Varese, Ateneu hall in Bacau, as soloist with the Philarmonic Orchestra Mihail Jora, and Rachmaninov Hall of Moscow Tchaikovsky Conservatory, Sale Apollinee at La Fenice Theatre in Venice, Palazzo Pitti in Florence, Teatro Sociale in Como, Zandonai Theatre in Rovereto, Auditorium Gaber and Sala Verdi in Milan, St. James Piccadilly, Russian Cultural Centre, amongst many other venues in London.
Emma has won numerous national and international competitions in Italy, as a soloist and in chamber ensembles, including one of the highest Italian prizes, the Rassegna Castrocaro Classica. At this competition she was also awarded the audience prize. She was awarded in other important competitions as Biennial Violin Competition Vittorio Veneto (Special Prize for talent and excellence); European Moncalieri Competition-Violin and Orchestra; Barlassina International Youngs Talent Competition; F.Pavia National Competition; National Giussano Competition; Bellagio and Como Lake Festival International Competition. She also was awarded as the best graduate in Como, Franz Terraneo Prize.
She was artist in residence for the Fondazione La Società dei Concerti di Milano for the season 2018/2019, with also various performances for the Associazione Musica con le Ali.
Emma plays on a precious F. Guadagnini violin
Read Bio

Duygu Ince
Duygu Ince
Duygu Ince started the violin at the age of eight at the Istanbul State Conservatoire and studied with Bahar Biricik. After graduating in 2011, she was offered a place at the Birmingham Conservatoire to study with Nathaniel Vallois. Duygu has been involved in many orchestral and chamber activities throughout her undergraduate study such as City of Birmingham Symphony Orchestra Youth Orchestra, Welsh National Opera, and leading Birmingham Conservatoire Symphony Orchestra numerous times. During her years at the Conservatoire, Duygu won awards such as Meher Rohi Gazder Scholarship, McQueen Bursary, and Bernard Statman Memorial Prize. She has performed in leading venues such as; Wigmore Hall, St John Smith Square, Birmingham Symphony Hall, Birmingham Town Hall, Barbican Hall, Vitoria-Gasteiz (Spain). She recently performed in China Modern Music Festival (Beijing and Tianjin) with Thallein Orchestra as a leader.
Duygu graduated from the Royal Birmingham Conservatoire with a First-Class Degree and she is currently studying a master's degree at the Guildhall School of Music and Drama with Prof. Jacqueline Ross. During her studies in Guildhall, Duygu took part in collaborations with the London Symphony Orchestra and worked with prestigious conductors such as; Sir Simon Rattle, Essa-Pekka Salonen to name a few. She performs as part of Opari Duo with Berx Kockaya.
Read Bio

Jennifer Sturt