Back to groups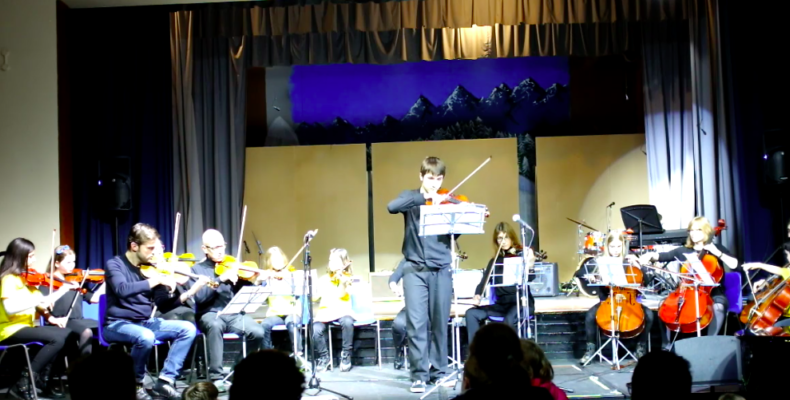 Strings
Teachers

Duygu Ince
Duygu Ince
Duygu Ince started the violin at the age of eight at the Istanbul State Conservatoire and studied with Bahar Biricik. After graduating in 2011, she was offered a place at the Birmingham Conservatoire to study with Nathaniel Vallois. Duygu has been involved in many orchestral and chamber activities throughout her undergraduate study such as City of Birmingham Symphony Orchestra Youth Orchestra, Welsh National Opera, and leading Birmingham Conservatoire Symphony Orchestra numerous times. During her years at the Conservatoire, Duygu won awards such as Meher Rohi Gazder Scholarship, McQueen Bursary, and Bernard Statman Memorial Prize. She has performed in leading venues such as; Wigmore Hall, St John Smith Square, Birmingham Symphony Hall, Birmingham Town Hall, Barbican Hall, Vitoria-Gasteiz (Spain). She recently performed in China Modern Music Festival (Beijing and Tianjin) with Thallein Orchestra as a leader.
Duygu graduated from the Royal Birmingham Conservatoire with a First-Class Degree and she is currently studying a master's degree at the Guildhall School of Music and Drama with Prof. Jacqueline Ross. During her studies in Guildhall, Duygu took part in collaborations with the London Symphony Orchestra and worked with prestigious conductors such as; Sir Simon Rattle, Essa-Pekka Salonen to name a few. She performs as part of Opari Duo with Berx Kockaya.
Read Bio

Jason Charles-Nelson
Jason Charles-Nelson
I am a professional musical director and composer, specialising primarily in tonal music and soundscape design. My works are rather eclectic, in that there is no commonly occurring theme amongst them in terms of style or genre. Having had the opportunity to gain plenty of experience from working in my specialist field whilst studying for my bachelors degree, I have rapidly acquired a vast amount of skills and music-related knowledge, particularly from a creative and performance-related perspective.
Primarily a skilled pianist, I have been fortunate enough to tour with various ensembles, performing in countries across Europe and the Caribbean, on renowned stages such as the Royal Albert Hall and ITV's "The X Factor".
With an advanced understanding of the capabilities of varying instruments, I am capable of operating within any musical genre to a high level of proficiency, as well as directing performers and ensembles in the same manner.
Thanks to years of experience in learning to operate music production software such as Logic Pro (and Pro Tools), I am fully adept at autonomously carrying out the recording process by way of digital production, an invaluable skill in this modern age of music. My experience in teaching and tutoring various students has greatly aided my ability to communicate ideas in a clear, comprehensible manner, a skill which further qualifies me as a capable director, along with my immediate work history in musical theatre.
Read Bio
Anna Tam
Anna Tam
Anna was born in London and began learning the cello at the Bromley Youth Music Trust when she was 7. Later as principal cellist of their Symphony and Chamber Orchestras she won the National Festival of Music for Youth and toured throughout Europe and Canada giving televised performances. During her early studies she performed at the Wigmore Hall, London and sang at St Mark's Basilica, Venice. Whilst at the Guildhall School of Music and Drama she performed several times on BBC Radio 3, including at a Barbican festival of the works of Elliot Carter. Here she developed her long-standing interest in contemporary music, furthered by performing works by Frank Martin with the LPO Future Firsts at the Purcell Room, London. She continues to explore the 20th century and contemporary repertoire of the cello alongside an interest in the early repertoire of this instrument and the voice.

Chamber music performances have taken her across Europe, Africa and many times to the US where she has performed on radio and television. She performs with HarmonieMusik, the Rosamunde String Quartet and the Rubenstein Ensemble; and has toured in the UK and Sweden performing JS Bach's solo suites for cello and contemporary cello works. In 2019 she performed at Tchaikovsky Great Hall, Moscow with the English Philharmonia.
A passion for early music, folk music and historical performance practice has led Anna to perform on various early instruments – baroque cello, viola da gamba, nyckelharpa and hurdy gurdy. She recently gave the premiere of two arias by Vivaldi on BBC 1's 'Britain's Hidden Heritage' and performs with Les Bougies Baroque.
Anna is the musical director of early music/folk ensemble 'Wilde Roses' with whom she sings and performs on various early instruments. The group's debut album 'Wilde Roses' was released to critical claim in 2018 and their second album 'Woven' is due for release in autumn 2020 on the Rubicon Classics label.
"Gorgeous track…Gosh that's amazing" Genevieve Tudor, BBC radio
"hypnotic and compelling, the work requiring fine accuracy of both pitch and timing which the pair pull off seemingly effortlessly" Fatea
"an extraordinary vocal performance…The instrumental work is excellent and cleverly arranged" Folking
"they pull you inexorably into a delicate fabric of instruments and voices…From any perspective, with this album they have more than achieved their objective" FolkWords
Follow Anna's YouTube channel.
Read Bio