Back to groups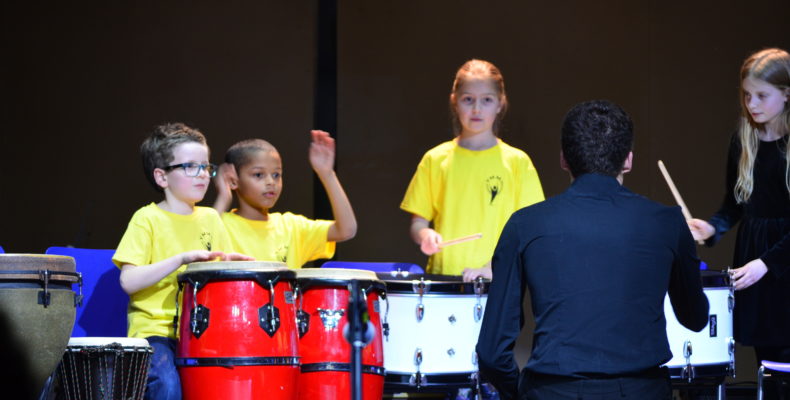 Drums & Percussion
Beginner Rhythm
An exciting introduction to the world of rhythm, developing skills which can be taken onto any instrument but are well-suited to moving to individual lessons on percussion or drum kit.
Rhythm 1
An exciting introduction to the world of rhythm, developing skills which can be taken onto any instrument but are well-suited to moving to individual lessons on percussion or drum kit.
Samba drumming
This uplifting course will cover a range of Afro-Brazilian drumming styles, with a main focus on Samba!
Designed for those with some previous drumming and percussion experience, the classes will take you on a Samba journey - including body percussion, dancing, oral transmission (mnemonics) and Portuguese singing.
Students should have basic ability in rhythmic reading (triplets and semiquavers).
Teachers

Meadow Brooks
Meadow Brooks
Meadow is a passionate educator and has experienced first-hand how transformative inspirational tuition can be. She is committed to the accessible and inclusive delivery of music education. She is regularly engaged by the Orchestra of the Age of Enlightenment's Education initiative, Royal Academy of Music Junior Department, London Chamber Orchestra, Camden Music Service, City Lit Adult College and the National Youth Orchestra; delivering workshops across the country for their renowned Inspire programme. She's also a Benedetti Foundation ambassador and has worked with the Wigmore Hall, Hold the Drama and Percworks, the UK's leading online percussion education platform.

Meadow was a Category Finalist on the BBC Young Musician of the Year competition and has presented solo recitals at the Budleigh Salterton Music Festival and RAM's inaugural Student Create Festival as well as attending the Dartington International Summer School as a Jazz Scholar, touring the UK with Street Orchestra Live and performing at Glastonbury Festival (2013/2019/2021).

She has worked alongside the BBC Concert Orchestra (BBC Proms), London Contemporary Orchestra (BBC3 live recording), Cambridge Opera Society, Australian Bushfire Benefit Orchestra and the Southbank's Mighty River Project. She performs regularly with the Pegasus Opera Company, Orion Orchestra, Norfolk Symphony Orchestra and Odyssey Festival Orchestra.

Meadow is in the last year of study for her BMus(Hons) at The Royal Academy of Music, where she will be completing an intensive Master's degree in 2023-24. During her studies, she's performed with the Symphony Orchestra under John Wilson and Ludovic Morlot, as well as with the Royal Academy Opera and Musical Theatre Company. She's also been involved in contemporary/chamber projects, including performing with the Manson Ensemble, alongside the Riot ensemble, recording an album for Linn Records under the leadership of Barbara Hannigan, collaborating with students of the Julliard School and even premiering a new work for solo vibraphone in association with the RAM's 200 Pieces collection.

Read Bio

Cyro Zuzi
Cyro Zuzi
Cyro Zuzi is a Brazilian born percussionist and drummer, he started his career more than 20 years ago, studying with Brazilian tutors Douglas Las Casas and Ramon Montagner. In his early days as a drummer he played in many rock bands around Sao Paulo, and in the year 2000 spent a month studying drums in Havana (Cuba), with the collaborator of Modern Drummer Magazine: Chuck Silverman among other Cuban teachers.
Still in 2000, he achieved first place in the Concurso de Bateristas do Vale do Paraiba, a renowned drum contest that gathers drummers from all over São Paulo state. In 2007 Cyro moved to London for professional gigs and recording sessions with local artists. He also appeared on 8 out of 10 Cats, Backchat and Loose Women.
He has recorded a few albums in UK, including the Hard Rock band: Nitroville (Don't stop what is coming), and Jazz artists Tamas Teszary (Bopcore) and Guido Spannocchi (Terms and Conditions). He has also collaborated in many tracks for independent artists and in 2018 recorded an instructional DVD called 'Workshop de Jazz International´ in Brazil with his own trio.
Cyro has been touring, doing concerts and workshops in many cities around UK, and played in some of the top music festivals, such as Cheltenham Jazz Fest, Secret Garden Party, Boom Town and Glastonbury. Performances and tours abroad include countries in South America, Europe, Africa and Middle East. He also played in most of London's prestigious music places: Ronnie Scotts, Jazz Café, Koko and The Vortex.
A keen educator, Cyro has been working as a private teacher for many years and since 2018 he has been the director of Bish Bash Bosh, a company which provides samba workshops for schools, businesses and communities all over the UK. Cyro has been a dep at Young Music Makers since 2017, and is very happy to have been made a permanent member of the team from September 2020. He is also involved with the project Girl Plays Jazz, providing jazz workshops for young females instrumentalists.
As a researcher Cyro has been developing a deep study in Brazilian drums that involves the history of rhythms from São Paulo and its roots in Africa.
Read Bio