Back to lessons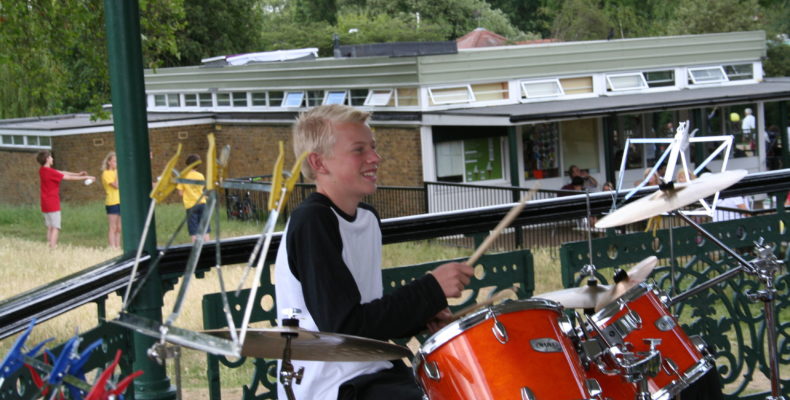 Drum Kit & Percussion
Drum Kit & Percussion – Instruments & Teachers

Sam Howes
Sam enjoys playing and performing a wide variety of music and therefore sees percussion as a discipline well suited to himself. He has been fortunate to have performance experience in a wide spectrum of music, from playing in an orchestral setting to playing with the Box 9 drumline at the last Rugby World Cup. 

Having started percussion education aged seven with a peripatetic teacher, Samuel quickly progressed and was offered a place at the Birmingham conservatoire where he then remained for seven years. In this time, he also played in the National Children's Orchestra, learning the fundamental skills of orchestral section playing and musicianship.
These experiences combined led to Samuel gaining a place as a specialist musician at Wells Cathedral school. Here, he had chance to play with many different ensembles, learning vital experience in performing with others in many different settings such as orchestras, big band and the PH7 drumline. Wells also offered the chance to go on percussion tours to both Budapest and Hong Kong. It was here, while working with classes of disabled children, Samuel discovered a passion for teaching, and the extra challenge of working with autistic and hearing-impaired children only inspired him more. 
While at Wells, Samuel then gained a place to study at the Royal College of Music as a scholar supported by a Douglas and Hilda Simmonds award. The RCM provides Samuel with opportunities in a very wide range of different musical activities, and being in London means he performs as an orchestral percussionist and among other things has played at the Rugby World Cup Final with the Box 9 drumline. More recently, he has enjoyed working with composers Steve Reich and David Lang in performances at the RCM.

After graduating from the RCM, Samuel intends to continue with his broad musical interests and hopes to pursue a career that involves a wide variety of music in both performance and education.

Read Bio

Michael Searl
Michael has played drums professionally for over ten years.
He started off his professional career working with various rock and pop artists, function bands, and doing freelance orchestral work, before getting bitten by the Jazz bug.
Mike then went on to become a regular on the London Jazz scene – gigging with artists such as Jim Mullen, Bukky Leo, Lauren Dalrymple, and Harry Beckett.
Never limited to any one style, Michael became increasingly interested in African music - finding work with groups like (Algerian) Seddik Zebiri's Seeds Of Creation, (Ghanaian) Afla Sackey's Afrik Bawantu, and world percussion collective URUBU.
In 2010 Michael made a life changing trip to Burkina Faso in West Africa. There he studied traditional Griot percussion styles with Griot master musician Ibrahim Sanou.
These experiences, (along with the fact that Michael also regularly performs on Bass with various West African and Jazz groups), have led to a current teaching style where the GROOVE is at the heart of everything the student does at the drum set.
Recent credits include sharing the Bass chair in the Royal Shakespeare Company's 2012 African production of Julius Caesar, and jointly composing the music for, and performing in "Obama The Mamba" - a new play written by Kevin Fegan. In addition, Michael is currently putting the finishing touches to his new band Niyi and Co.'s debut album, which he helped to compose, arrange, and produce.
Read Bio

Phillip Harper
Phillip has been playing drums and percussion for 15 years in total and started professionally in 1989. He took drum lessons at school and sixth form college and in 1996 met a man named Clifford Jarvis who had previously played drums with some of the biggest names in Jazz history (John Coltrane, Charles Mingus, Sun Ra and many more). He became a friend/inspiration and teacher shaping the way Phil also runs workshops teaching studio recording techniques. As a session musician he has recorded and performed with: Terry Callier, The East London Gospel Choir, Craig David, J-Life, Ronnie Laws, Julie Dexter, The Esscofery Sisters and many more obscure artists. Phillip is a promoter of live music and is leader of his own group THE LIFEFORCE BAND.
Read Bio