Back to groups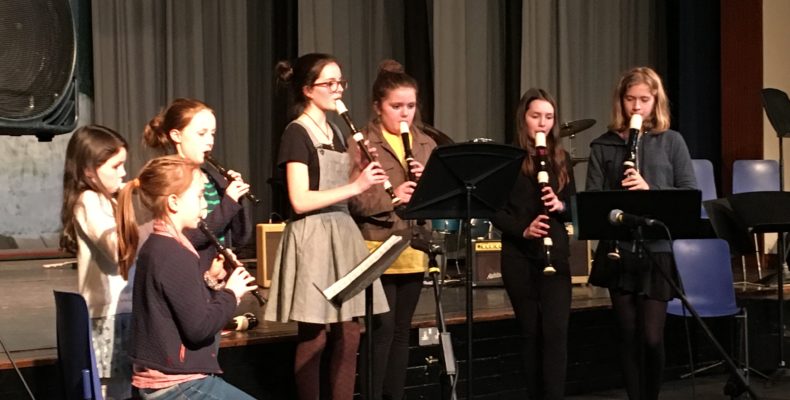 Recorders
Teachers

Alex Griffiths
Alex Griffiths
Alex is an enthusiastic teacher with experience in all ages and abilities. She also freelances around the UK, playing with a variety of orchestras including the London Symphony Orchestra. 
She is a recent graduate of the Guildhall School of Music and Drama, where she received her Masters in Orchestral Artistry and studied with Gareth Davies, Philippa Davies, Ian Clarke and Christopher Green. Previous to this, she gained a scholarship to study at the Royal Welsh College of Music and Drama for undergraduate, learning predominantly with Sarah Newbold, where she played with all the colleges ensembles and reached the final of the concerto competition in 2014. 
She is a founding member of the Vesta Trio who are recent recipients of the Cardiff Violins Chamber Prize and finalists of the McGrenary Chamber Competition. In 2017, they were accepted onto the Live Music Now scheme and give frequent performances and workshops. They also represent Music in Hospitals & Care across England and Wales.
Alex is generously supported by the Sir John Barbirolli Memorial Foundation and the Leverhulme Trust.
Read Bio

Layil Barr
Layil Barr
Layil's playing has been described as 'unforgettable' and 'stupendous'. She has become renowned for her dynamic interpretations of music from all ages and has been hailed as one of the most virtuosic recorder players of the times.
Layil studied at the Jerusalem Rubin Academy of Music and Trinity College of Music, London with Philip Thorby, where she was introduced to the viol by Alison Crum. During this time she made broadcasts for the Jerusalem Music Centre and won several awards including the America-Israel Cultural Foundation Award, the Dorothy Stone Award and the TCM Silver Medal for Early Music. As a soloist Layil has performed with various orchestras including The Royal Artillery Orchestra and The Israeli Chamber Orchestra, and has toured the USA, China, Korea, Israel, Egypt, Italy, Spain, France, Ireland and the UK.
Layil is the founder and director of Mi Luna and is co-director of Eclipse, creating programmes that include fusions of different musical styles and dance.
She also plays with many Early and World Music groups including La Concert Des Nations, under the direction of Jordi Savall, Charivari Agreable, Minerva and Siena, with whom she has performed in the Purcell Room, and made recordings of music by Salamone Rossi for the Classical Recording Company. She has recorded for different early music ensembles and world music projects including singer Mor Kabasi.

www.milunamusic.com
https://www.youtube.com/channe...


Layil Barr - YouTube
www.youtube.com
Read Bio