Back to lessons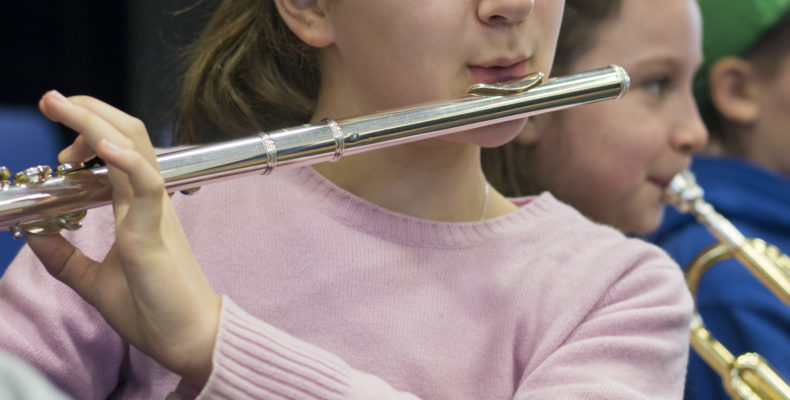 Woodwind
Woodwind – Instruments & Teachers

Daisy Coole
Daisy Coole is a composer, woodwind specialist and educator… and former YMM student! After graduating from university with a 1st Class BA Honours degree in music and both department prizes for performance and composition, she toured the UK Europe with internationally-renowned bands, appearing on radio and television alongside artists such as Lady Gaga, and as a featured saxophonist on BBC Radio 6 Music.
Daisy co-founded music and post-production sound company, Two Twenty Two in 2014, alongside Tom Nettleship. Described as "an absolute formula for success" by film critic, Mark Kermode, their film scores have been featured in New York Times, the United Nations General Assembly, and performed live at the Royal Albert Hall, as well as screening at countless film festivals around the world.
Daisy is a regular host and panellist for organisations including Women in Film & TV, the Alliance for Women Film Composers and #SheTakesOver. She is an advocate for making the world of film composing open and accessible because she wants all young people to know this career is possible.
Read Bio

Sara Minelli
Sara is an Italian flautist based in London since 2011. She graduated in flute and music education (teaching qualification) at Conservatoire "F. Morlacchi" in Perugia and obtained a Diploma of Specialisation in flute at the Academy of Music in Florence. Her teachers include R. Fabbriciani and M. Cox in London.
Sara has received recognitions and awards as soloist performer at International Prize: "V. Bucchi" in Rome, Prize "A. Gori" in Siena, the competition "Five days for the New Music" in Milan, and qualified in orchestral auditions including the Orquestra do Norte in Portugal.
Since working with the composer A. Solbiati as the performer of his works for solo flute, Sara has developed a great passion for new music on her instrument. She has since worked with many composers and has played new music for the flute at Kettle's Yard and Robinson College in Cambridge, Festival Pontino (Sermoneta), Equator's Women of the World Festival (London), Gamo Association for the New Music (Florence), Tema Academy for the New Music (Milan), and Music Library "O. Trotta" (Perugia).
Sara has worked with many orchestras including Milan Symphony Orchestra "G.Verdi" and has played in a S.Sciarrino's première at Festival delle Nazioni - Città di Castello.
Since living in London she has worked with THAMES, Newham Academy of Music and Chepstow House School in Notting Hill.
Sara enjoys sharing her passion for music and has been teaching for over ten years working with students aged from 4 months to 70 years old.
Read Bio

Olivia Murphy
Olivia Murphy is a multi-instrumentalist and award-winning composer originally from Peterborough, U.K. Since graduating from the jazz course at the Royal Birmingham Conservatoire in 2019, Olivia has become a regular saxophonist on the U.K scene, performing a wide range of music from large ensemble jazz with Birmingham Jazz Orchestra and original compositions with her own sextet, to free jazz with Steve Tromans and disco with Break Out Brass Band. Olivia holds the 2020 composer chair with the National Youth Jazz Orchestra and is also regularly commissioned to work with various projects around Birmingham.
Read Bio

Jamie O'Donnell
Saxophonist Jamie O'Donnell has been working as a performer and educator since attending the Guildhall School of music and Drama in 1992. He took lessons with with Jean Toussaint, Bob Martin and Rick Margitza. For the last 20 years he has traveled to New York and Rome as a student of Jazz pianist Barry Harris, delving deeply into the music of Charlie Parker and Bud Powell.
Known as a player firmly rooted in the jazz tradition, Jamie has performed with many fine musicians including Gareth Lockrane, Gwilym Simcock, Matt Fishwick, Bob Martin, Anita Wardell, Robert Anchipolovsky and many others. Most recently, Jamie was performing at Ronnie Scotts alongside fellow alto players Greg Abate (US) and Alan Barnes in a tribute to the late, great saxophonist (and Jamie's hero) Phil Woods. He is a founder member of the Paradise Festival in Cyprus and his own quartet play regularly at festivals around Europe.
As an educator, Jamie currently teaches jazz at the Hall School in Hampstead. As part of the Association of Music in International schools. he led student combos in Kuala Lumpur, Rome, The Hague and other cities around the world . In 2008, Jamie received a commission fo compose a piece for an International Honor Jazz Band at the International School of Luxembourg.
Jamie has a huge passion for playing and for teaching and he is proud to count a number of professionals amongst his past students.
Read Bio

Thomas Pickering
Thomas is currently in his final year studying in London, at the Guildhall School of Music and Drama. His principal instrument is the recorder, but he is also a talented baroque flautist, as well as an early keyboards player.
As well as being a dedicated educator, he enjoys a busy schedule filled with exciting performance opportunities. Recent highlights have included playing in the ENO's Olivier Award winning production of 'Noye's Fludde', as well as playing alongside members of The Academy of Ancient Music in a series of concerts and touring with Opera North as the Principal Recorder player for a production of 'The Greek Passion'. He also successfully auditioned and completed the Wigmore Hall's Chamber Tots scheme, leading educational workshops for toddler and young children.
Over the last three years, Thomas has taken part in lessons and masterclasses both as a soloist and as part of an ensemble with various people, such as Maurice Steger, Rachel Podger, Karel van Steenhoven and Dorothee Oberlinger. In his first year at GSMD he was selected to play the principal recorder part in the school's opera; a production of 'Venus and Adonis' by John Blow, and has since been asked to play again for both Charpentier's 'Orphée descendant aux enfers' and Carissimi's 'Judicium Salomonis'. He has also toured across Austria and Switzerland as a member of the critically acclaimed ensemble Apollo's Cabinet, playing both the recorder and the harpsichord.
As well as performing, Thomas is a keen arranger and composer, and was commissioned by The Worshipful Company of Woodturners to compose a fanfare for the Lord Mayor of London, which he had the opportunity to perform and present to the Lord Mayor on multiple occasions.
Read Bio

Chris Williams
Being inspired by Jazz in his early years, Chris graduated from Middlesex University with a 1st class honours in Jazz Studies in 2004. Since then, he has been an active member of the thriving music scene in London covering genres far and wide; ranging from electro pop and left field rock to African folk and free improv. Being involved in this vast array of styles has allowed Chris to develop a unique voice both as a musician and composer. This has led to critical acclaim and awards for a number of bands, performances at prestigious venues and festivals, as well as numerous TV and radio sessions broadcast around the world.
As well as developing technical ability along with awareness of harmony and theory, Chris encourages students to embrace improvisation and explore music through their instrument; drawing a link between the music that one feels as a listener and the music that one plays as a young musician.
With Mercury-nominated Led Bib set to release their sixth album and recording dates scheduled for a number of other bands (Let Spin, Metamorphic, Arun Ghosh, Namvula) all in early 2017, Chris will also be undertaking an MA in Jazz at the Royal Academy of Music, continuing his own development as a performer, composer, and music educator.
Led Bib
https://www.youtube.com/watch?v=225ymLT5N2s
Namvula
https://www.youtube.com/watch?v=V5nxnUehhWY
Arun Ghosh
https://soundcloud.com/arunghosh/sufistomp
Let Spin
https://www.youtube.com/watch?v=aDDrd0LEwxQ&index=4&list=PLRAPAne7g7pn_PxEnWvAYUlxdjos2e7kW
Metamorphic
http://www.metamorphic.org.uk/
Read Bio

Martina Milhulkova
Martina is a versatile flute player and enthusiastic teacher from the Czech Republic. She trained in Classical Flute and Jazz Flute Performance at the Guildhall School of Music and Drama. She has freelanced with orchestras, touring the UK with Czech National Symphony Orchestra, or Scandinavia with City of Prague Philharmonic Orchestra, and playing flute and piccolo in theatre pits in ballet and opera productions. Exploring her interest in groove and improvising, she is currently specialising in Brazilian music, performing with Rhythms of the City samba band as a percussionist and with Offbeat Collective as a flautist.
She has taught students of different levels and ages, helping them achieve their musical goals and discover their creative potential. She has lead creative music workshops for The Music FunDation in Prague and taught a seminar on Creativity in Music at the Teplice Conservatoire.
Read Bio