Back to lessons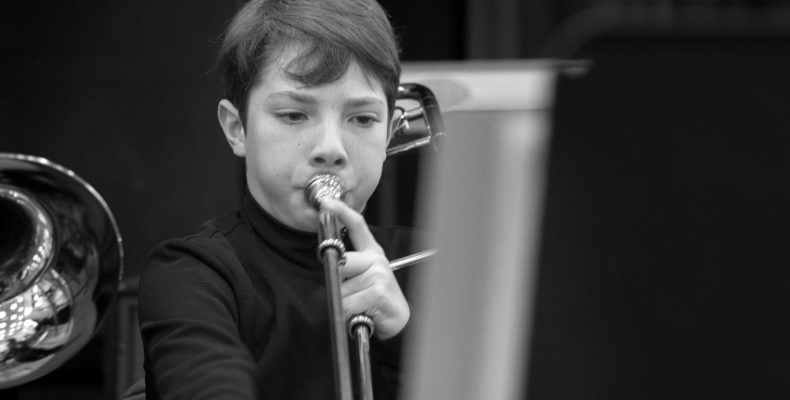 Brass
Brass – Instruments & Teachers

Reuben Fowler
Reuben Fowler is a 27 year old jazz trumpet player, composer, arranger and teacher based in London. He is currently the trumpet player for Paloma Faith and Culture Club, and has also performed with an array of artists including Noel Gallagher and Texas. As a result he has performed at some of the most coveted venues and festivals worldwide including the BBC Proms at the Royal Albert Hall, The Hollywood Bowl (Los Angeles), the New Orleans Jazz Festival, Montreux Jazz Festival, Glastonbury and the North Sea Jazz Festival. Reuben has also worked extensively as a session musician and his performing credits include the BBC Big Band. Worldwide, he has played on broadcasts including: Jools Holland's Annual Hootenanny, The Jimmy Kimmel Show, The Jonathan Ross Show, Alan Carr Chatty Man, Taratata, and Live at the Palladium.
Reuben Fowler graduated in 2012 from the Royal Academy of Music, winning the Kenny Wheeler Award for composition and performance and the Musicians Benevolent Peter Whittingham Award. He also won the John Baker Memorial Award for brass.
Following the online success of the Facebook page Trumpet Tuesday; which is co- managed by Reuben alongside two other Royal Academy of Music alumni, he was asked to lead a group masterclass for the jazz and classical brass students at his alma- mater in 2016. Prior to this, he had also taught the Jazz Ensemble at the National Youth Jazz Orchestra. 
In 2013 Reuben Fowler wrote and arranged, rehearsed and recorded his own big band as part of a trans-atlantic recording project called Between Shadows, featuring jazz legends Tom Harrell, Stan Sulzmann and Jim Hart. The project later resulted in Fowler being cited: "...maybe the most exciting and accomplished trumpeter to emerge on the British Jazz scene.."
Read Bio

Rory Ingham
Rory Ingham, jazz trombonist/educator/composer, is the winner of Rising Star in the 2017 British Jazz Awards, and was voted as a runner-up in the Trombonist of The Year 2016. Rory was chosen as 'One To Watch' in the Shape of Jazz To Come section of Jazzwise 2018 and was announced a winner of the 2018 British Trombone Society Awards. He was also a finalist in the Carl Fontana Jazz Trombone Competition at the International Trombone Festival in California.
Born and raised in Yorkshire, England via Fife, Scotland, Rory is now based in London having graduated from Royal Academy of Music with first class honours. He has played with internationally-acclaimed musicians such as Chris Potter, Dave Holland, Elliot Mason, Ingrid Jensen, Dennis Rollins, Newton Faulkner, Claire Martin, Alan Barnes, Liane Carroll, Dave Douglas, Evan Parker and Dave Liebman. He has also played with many ensembles including BBC Big Band, Mike Gibbs Big Band, Guy Barker Big Band, Syd Lawrence Orchestra, Whirlwind Recordings Jazz Orchestra, Claire Teal Mini Big Band, London Concert Orchestra and Jonny Mansfield's Elftet. He has performed at prestigious venues/festivals across Europe, including Royal Festival Hall, Barbican, Bimhuis (Amsterdam), Jamboree (Barcelona) and the Royal Albert Hall, where he was a featured soloist.
In 2018, Rory set up his quartet that have since toured Europe and played at many high-profile British jazz festivals/venues (inc. Love Supreme Festival, EFG London Jazz Festival, Pizza Express Dean St. and Ronnie Scott's). Rory was the featured artist in Jazzwise's "Taking Off" section in summer 2019, and interviewed on BBC Radio 3 discussing his other project, Parliamentary Jazz Award nominated Bonsai who released a new record in 2019 on Ubuntu Music, receiving much critical acclaim.
Rory is a member of the Pasadena Roof Orchestra, and is proud to be endorsed by Michael Rath Trombones, and is the youngest artist on the roster.
Read Bio