Back to lessons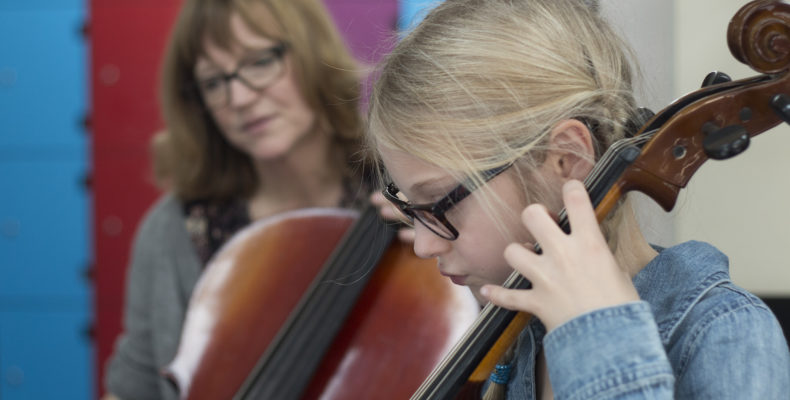 Strings
Strings – Instruments & Teachers

Hannah Gardiner
Hannah currently studies with Martin Outram at the Royal Academy of Music. She is a recent graduate of King's College, Cambridge, where she studied English Literature. While at Cambridge, she was principal viola of the Symphony and Chamber orchestras, as well as a recipient of an Instrumental Award through which she played in a piano quartet which won the inaugural Camerata Musica prize. 
Hannah began as a violinist, but switched to first study viola at the age of 16. She is particularly passionate about chamber music, and about contemporary music, having also been a member of the Cambridge New Music Ensemble. Hannah grew up in North London, learning through various local and London based music services, and this has instilled in her an interest in and passion for engaged and active string teaching. 
Read Bio

Penka Petkova
Penka Petkova began learning the piano at the age of five, and at the age of six she began her cello studies in the class of Daniela Cherpokova-Nikolaeva at the Lybomir Pipkov National School of Music in Sofia (Bulgaria). Since September 2013, she is a bachelor student of prof. Stefan Popov at Guildhall School of Music and Drama (London). Penka has been a scholarship student of Raina Kabaivanska's, Communitas' Foundations, Drake Calleja, Wolfson, Yordan Kamdzhalov Music Trusts. Penka is generously supported by the Guildhall School Trust. 
She is a laureate of the international competitions Young Virtuosos  in Sofia, M.A.G.I.C. for Austrian music in Bourgas (Bulgaria); the Radio Competition for chamber music Concertino Praga; Cello competition Karl Davidov in Kuldiga (Latvia); M. Elsky International Contest of String Bow instruments performers in Minsk (Belarus). 
She refines her skills in the master classes of Jérôme Pernoo, Prof. Vladimir Perlin, Mats Lidstrom, Dominique de Williencourt, Gavriel Lipkind , Seeli Toivio, Martin Zeller, Talich String Quartet, Prof. Grigory Feyghin, Elena Ashkenazy, Prof. Kevork Mardirossian, Alexander Zemcov,  etc.  She has also participated at the International Chamber Music and Orchestra Course "Musica Mundi" (Belgium), International Summer course for chamber music "Hindemith" in Blonay (Switzerland) and York Chamber Music Festival.
Penka Petkova has performed as soloist of Classic FM Radio Orchestra, New Symphony Orchestra, the philharmonic orchestras of Plovdiv, Pleven and Vratsa (Bulgaria); Liepaja Latvian philharmonic orchestra and the Belarusian State Philharmonic. She has had solo and chamber music recitals in Bulgaria, Macedonia, Czech Republic, Switzerland, Luxembourg, Germany, England and United States.
In 2011 and 2012 she was awarded a Diploma for artistic achievement by the Minister of Culture of the Republic of Bulgaria. Penka has solo and chamber music recordings made for the Czech radio, Bulgarian National TV, Bulgarian National Radio and other broadcastings.
Read Bio

Todor Nikolaev
Todor graduated with distinction from the National School of Music in Sofia in 2000. In the same year he was awarded a full scholarship to study at the Guildhall where he completed his Bachelor and Masters Degree with Honours in 2007. Todor has won several prizes and awards in International violin competitions including 'Jan Kocian' – Czech republic in '97 and 'Remember Enescu' in '98. He is a regular soloist with the Shumen and Vidin Philharmonic Orchestras in Bulgaria and also gives many solo and chamber recitals in Bulgaria and U.K. In 1999 he played with Nigel Kennedy during his European tour in the National Palace of Culture in Sofia. Todor has varied private teaching experience and currently also teaches at the Blackheath Conservatoire of Music and Arts.
Read Bio