Back to lessons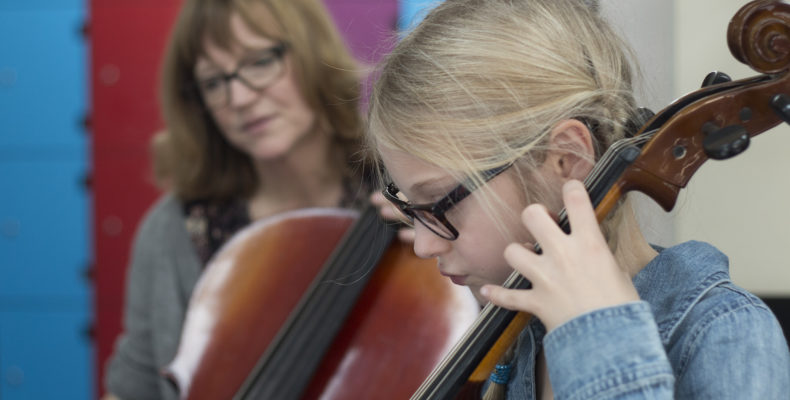 Strings
Strings – Instruments & Teachers

Emma Arizza
Emma has recently won the Musicians' Company Award 2019 and she has been entitled to become a Yeoman of the Company and to join a Young Artist Program for the duration of five years. Born in Como, Emma regularly performs across Italy and the UK as a soloist and in different ensembles. She is currently based in London and has recently graduated from the Royal College of Music with distinction. Emma has been awarded a full scholarship for Master studies at the prestigious Trinity Laban Conservatoire of Music and Dance.
From her debut in Romania at the age of 16 with the Orchestra of Bacau in Sibelius Concerto for violin and orchestra, Emma's performances have taken her all around Europe, from France to Switzerland to Spain, Russia, Romania, Greece, UK and the Netherlands.
Upon attending masterclasses with the likes of Sergej Krylov, Zakhar Bron- in Sommer Academie Salzburg Mozarteum- and Tchaikovsky Trio, and performing in prestigious concert halls, including the Estense Hall in Varese, Ateneu hall in Bacau, as soloist with the Philarmonic Orchestra Mihail Jora, and Rachmaninov Hall of Moscow Tchaikovsky Conservatory, Sale Apollinee at La Fenice Theatre in Venice, Palazzo Pitti in Florence, Teatro Sociale in Como, Zandonai Theatre in Rovereto, Auditorium Gaber and Sala Verdi in Milan, St. James Piccadilly, Russian Cultural Centre, amongst many other venues in London.
Emma has won numerous national and international competitions in Italy, as a soloist and in chamber ensembles, including one of the highest Italian prizes, the Rassegna Castrocaro Classica. At this competition she was also awarded the audience prize. She was awarded in other important competitions as Biennial Violin Competition Vittorio Veneto (Special Prize for talent and excellence); European Moncalieri Competition-Violin and Orchestra; Barlassina International Youngs Talent Competition; F.Pavia National Competition; National Giussano Competition; Bellagio and Como Lake Festival International Competition. She also was awarded as the best graduate in Como, Franz Terraneo Prize.
She was artist in residence for the Fondazione La Società dei Concerti di Milano for the season 2018/2019, with also various performances for the Associazione Musica con le Ali.
Emma plays on a precious F. Guadagnini violin
Read Bio

Duygu Ince
Duygu Ince started the violin at the age of eight at the Istanbul State Conservatoire and studied with Bahar Biricik. After graduating in 2011, she was offered a place at the Birmingham Conservatoire to study with Nathaniel Vallois. Duygu has been involved in many orchestral and chamber activities throughout her undergraduate study such as City of Birmingham Symphony Orchestra Youth Orchestra, Welsh National Opera, and leading Birmingham Conservatoire Symphony Orchestra numerous times. During her years at the Conservatoire, Duygu won awards such as Meher Rohi Gazder Scholarship, McQueen Bursary, and Bernard Statman Memorial Prize. She has performed in leading venues such as; Wigmore Hall, St John Smith Square, Birmingham Symphony Hall, Birmingham Town Hall, Barbican Hall, Vitoria-Gasteiz (Spain). She recently performed in China Modern Music Festival (Beijing and Tianjin) with Thallein Orchestra as a leader.
Duygu graduated from the Royal Birmingham Conservatoire with a First-Class Degree and she is currently studying a master's degree at the Guildhall School of Music and Drama with Prof. Jacqueline Ross. During her studies in Guildhall, Duygu took part in collaborations with the London Symphony Orchestra and worked with prestigious conductors such as; Sir Simon Rattle, Essa-Pekka Salonen to name a few. She performs as part of Opari Duo with Berx Kockaya.
Read Bio

Todor Nikolaev
Todor graduated with distinction from the National School of Music in Sofia in 2000. In the same year he was awarded a full scholarship to study at the Guildhall where he completed his Bachelor and Masters Degree with Honours in 2007. Todor has won several prizes and awards in International violin competitions including 'Jan Kocian' – Czech republic in '97 and 'Remember Enescu' in '98. He is a regular soloist with the Shumen and Vidin Philharmonic Orchestras in Bulgaria and also gives many solo and chamber recitals in Bulgaria and U.K. In 1999 he played with Nigel Kennedy during his European tour in the National Palace of Culture in Sofia. Todor has varied private teaching experience and currently also teaches at the Blackheath Conservatoire of Music and Arts.
Read Bio

Penka Petkova
Penka Petkova began learning the piano at the age of five, and at the age of six she began her cello studies in the class of Daniela Cherpokova-Nikolaeva at the Lybomir Pipkov National School of Music in Sofia (Bulgaria). Since September 2013, she is a bachelor student of prof. Stefan Popov at Guildhall School of Music and Drama (London). Penka has been a scholarship student of Raina Kabaivanska's, Communitas' Foundations, Drake Calleja, Wolfson, Yordan Kamdzhalov Music Trusts. Penka is generously supported by the Guildhall School Trust. 
She is a laureate of the international competitions Young Virtuosos  in Sofia, M.A.G.I.C. for Austrian music in Bourgas (Bulgaria); the Radio Competition for chamber music Concertino Praga; Cello competition Karl Davidov in Kuldiga (Latvia); M. Elsky International Contest of String Bow instruments performers in Minsk (Belarus). 
She refines her skills in the master classes of Jérôme Pernoo, Prof. Vladimir Perlin, Mats Lidstrom, Dominique de Williencourt, Gavriel Lipkind , Seeli Toivio, Martin Zeller, Talich String Quartet, Prof. Grigory Feyghin, Elena Ashkenazy, Prof. Kevork Mardirossian, Alexander Zemcov,  etc.  She has also participated at the International Chamber Music and Orchestra Course "Musica Mundi" (Belgium), International Summer course for chamber music "Hindemith" in Blonay (Switzerland) and York Chamber Music Festival.
Penka Petkova has performed as soloist of Classic FM Radio Orchestra, New Symphony Orchestra, the philharmonic orchestras of Plovdiv, Pleven and Vratsa (Bulgaria); Liepaja Latvian philharmonic orchestra and the Belarusian State Philharmonic. She has had solo and chamber music recitals in Bulgaria, Macedonia, Czech Republic, Switzerland, Luxembourg, Germany, England and United States.
In 2011 and 2012 she was awarded a Diploma for artistic achievement by the Minister of Culture of the Republic of Bulgaria. Penka has solo and chamber music recordings made for the Czech radio, Bulgarian National TV, Bulgarian National Radio and other broadcastings.
Read Bio
Anna Tam
Anna was born in London and began learning the cello at the Bromley Youth Music Trust when she was 7. Later as principal cellist of their Symphony and Chamber Orchestras she won the National Festival of Music for Youth and toured throughout Europe and Canada giving televised performances. During her early studies she performed at the Wigmore Hall, London and sang at St Mark's Basilica, Venice. Whilst at the Guildhall School of Music and Drama she performed several times on BBC Radio 3, including at a Barbican festival of the works of Elliot Carter. Here she developed her long-standing interest in contemporary music, furthered by performing works by Frank Martin with the LPO Future Firsts at the Purcell Room, London. She continues to explore the 20th century and contemporary repertoire of the cello alongside an interest in the early repertoire of this instrument and the voice.

Chamber music performances have taken her across Europe, Africa and many times to the US where she has performed on radio and television. She performs with HarmonieMusik, the Rosamunde String Quartet and the Rubenstein Ensemble; and has toured in the UK and Sweden performing JS Bach's solo suites for cello and contemporary cello works. In 2019 she performed at Tchaikovsky Great Hall, Moscow with the English Philharmonia.
A passion for early music, folk music and historical performance practice has led Anna to perform on various early instruments – baroque cello, viola da gamba, nyckelharpa and hurdy gurdy. She recently gave the premiere of two arias by Vivaldi on BBC 1's 'Britain's Hidden Heritage' and performs with Les Bougies Baroque.
Anna is the musical director of early music/folk ensemble 'Wilde Roses' with whom she sings and performs on various early instruments. The group's debut album 'Wilde Roses' was released to critical claim in 2018 and their second album 'Woven' is due for release in autumn 2020 on the Rubicon Classics label.
"Gorgeous track…Gosh that's amazing" Genevieve Tudor, BBC radio
"hypnotic and compelling, the work requiring fine accuracy of both pitch and timing which the pair pull off seemingly effortlessly" Fatea
"an extraordinary vocal performance…The instrumental work is excellent and cleverly arranged" Folking
"they pull you inexorably into a delicate fabric of instruments and voices…From any perspective, with this album they have more than achieved their objective" FolkWords
Follow Anna's YouTube channel.
Read Bio