Back to News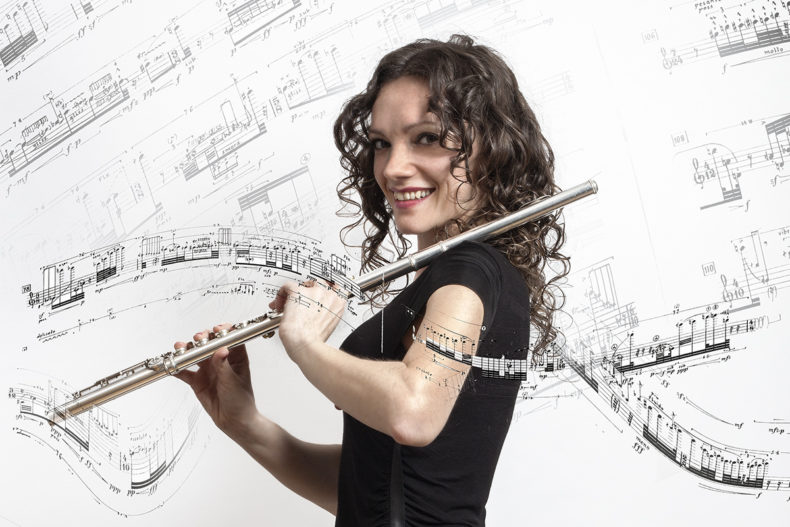 Tutor Profile: Sara Minelli
Sara Minelli is a contemporary classical flautist who often collaborates with new composers including working with the Composition faculty at Royal College of Music (London). She is also a member of the GAMO ensemble for the Contemporary Music in Florence.
You studied flute and music education at Conservatoire 'Francesco Morlacchi' in Perugia and the Academy of Music in Florence but what was your introduction to playing music? Why did you choose the flute?
I am extremely grateful to the fantastic music teachers in Montepulciano (Siena -Tuscany), where I lived. My family isn't musical and I didn't have so much exposure to music at home. When I was a child, a choral conductor visited my primary school: he was searching for children to form a children's choir for a festival, founded and directed by an important composer, Hans Werner Henze, who lived in my same town. I was chosen to be part of the choir and my first musical experience ever was singing in a contemporary Opera!
Then there was the chance of learning an instrument for free at my secondary school but my parents didn't sign me up because my foreign language was French, which was taught in the non musical course. 
One day, my music teacher phoned my Mum and said: "Why you didn't sign Sara up for instrumental lessons? This is such a great opportunity for her!" So my Mum did.
Some Professors from the Conservatoire in Florence came to my school to test the children who wanted to learn an instrument. They thought the flute was the right instrument for me and advised me to try it. From the very first sound I made on the flute, I loved the instrument so much that I couldn't stop playing it!
Tell us about moving to London...
I moved to London in 2011. It's been an adventure: the work situation in my country was discouraging and I wanted to explore a new country and improve my English. I left my country without having a place to stay or a job in the U.K. I didn't even know whether I would have found any luck! I was very excited about coming to London because I first came here with friends when I was a teenager. It was my first trip without my family and I immediately fell in love with this magnificent city!

You received the Artists International Development Fund Award from the Arts Council of of England, which took you to Israel in December 2016. Tell us about the project...
It's a project supporting the work of women composers. I was invited to perform at a festival organised by the Israeli Forum of Women Composers and Performers. The Festival took place at the Israel Conservatoire in Tel Aviv and I performed solo and in a duo with a soprano. This led to another concert at Haifa University and a lecture on flute extended techniques which I gave at the University at Tel Aviv, within the Composition faculty.

I had never been to Israel before and it was such a great thing; I have definitely left a piece of my heart there! The atmosphere at the Festival was wonderful: it was fantastic to see women musicians from many countries gathering and making music! I have been delighted to have received the support of the Arts Council of England and the British Council for my project!

You specialise in collaborating with new composers to create new works for the flute. What excites you about the process?
It's absolutely fascinating to have the opportunity of meeting and working directly with the composers because they can really guide the performer towards the right interpretation of their music! 

I am always very excited to be the dedicatee of a new piece... and to make it happen! It's great to connect with the composer's imagination and to share with them my ideas about a piece which is taking shape. Most of the time the composers rely on my technical and expressive support in order to find the best way to put in music what they have in mind. This is something which am very honoured about!
We hear you have recorded your first solo album with EMA Records! How did you choose the repertoire and when can we hear it?
Contemporary Classical Music is my main repertoire. I am very passionate about modern and adventurous pieces, technically very challenging, with extended techniques and a strong experimental element.
I have recorded some of my favourite pieces by composers such as Brian Ferneyhough and Salvatore Sciarrino, whose research on the flute has been extremely important. I have also recorded pieces written especially for me by excellent composers from Italy and U.K: Alessandro Solbiati, Jonathan Cole, Matteo Giuliani and Alessandro Magini. They are works for solo flute and alto flute and two pieces are for flute and electronics.
I spent most of the last summer in Italy recording the programme. The whole project required a lot of hard work but the recording sessions were fun! Some of the composers attended the recording session for their pieces, which was very important and helpful.

Sara's album will be released later in 2017 so watch this space...
For more information on Sara's album and concert dates, visit her website.