Back to groups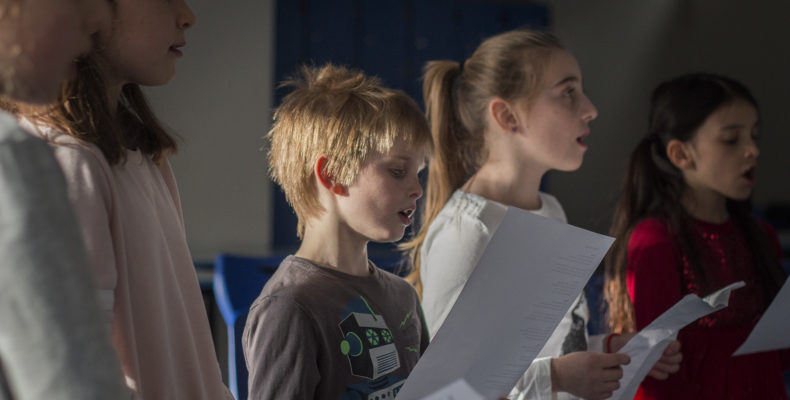 Choirs
Teachers

Becca Wilkins
Becca Wilkins
Becca is a professional vocalist based in London. Having studied with tutors from both the Royal Birmingham Conservatoire and the Guildhall School of Music and Drama, Becca's music combines an original style with a fresh approach to vocal musicianship.
In 2018 she released the self-promoted duo EP with pianist Tom Harris, wilkins/harris, with an accompanying UK tour the same year. This tour took this collaborative original music to venues including the Crazy Coqs at Brasserie Zédel, Cherry Red's in Birmingham, and in support of renowned musicians, such as Daniel Erdmann's Velvet Revolution. In 2019 this project also played to great acclaim at the Lescar, and most notably, as a support slot for Kandace Springs at Cheltenham Jazz Festival. Tony Dudley Evans has described this project as having 'a real energy and joy in their performances and I believe that they will always captivate audiences'.
A highly flexible musician, Becca's projects range from artful storytelling and sensitive textural vocals to energetic showmanship and commanding extemporisation. She can also be found performing as the front-woman of energetic, brass-fuelled jazz-pop fusion band, Argle Bargle, and dynamic function bands Mirror and The Distractions. Read more about Becca's projects here.
Having studied with some of the UK's most prolific jazz vocalists, including Sara Colman, Brigitte Beraha and Tina May, Becca has a technical command over her own voice and a clear artistic vision. Her influences range from Betty Carter and Sarah Vaughan to Gretchen Parlato and Cécile McClorin Salvant.
Not only has Becca worked extensively on her own projects, but she is a keen collaborator, having worked at length with the composer and saxophonist Olivia Murphy. In March 2019 Murphy released her EP afterglow of a dream suite, which featured Becca in the unique frontline of vocals, saxophone (Murphy) and trombone (Joe Carnell). The music featured voice as a dynamic instrument, in gymnastic unison melodies, rich three-part writing and captivating free improvisation.
Murphy has since created a new suite of music with Wilkins, alongside pianist Olly Chalk. Tomorrow Songs is a suite of compositions written over lockdown that showcase Becca's voice in intimate ballads such as 'There is a Hill' and dramatic rhythmic compositions; 'mermaid', 'clouds' alongside the talents of her fellow bandmates. Becca also contributed extensive vocal FX to this music, a defining feature of this trio's musical output. Tomorrow Songs was debuted in a live stream in collaboration with Stoney Lane Records and Jazzwise Magazine in August 2020.
This use of FX led to Becca being shortlisted alongside six contemporary vocalists in jazz from around Europe for her use of vocal processors in live performance, and she continues to pursue this artistic avenue in her most recent project, Gestalt. This project features some of the UK's brightest young talents, providing 'a powerful accompaniment to Becca's intimate lyrics and vocal textures, effortlessly shifting from abrasive electronic soundscapes to gentle piano textures and everything in between'. This project showcased their set of brand-new compositions to an eager audience at a Jazzlines free gig at Symphony Hall, Birmingham, in late 2019, and are soon to be rescheduled for their cancelled booking at the Vortex Jazz Club.
Both creative and driven, Becca continues to pursue new musical routes of expression, showcased in her latest projects and collaborations. This young musician has a lot to offer and will surely be making waves over the coming years.
Read Bio

Jason Charles-Nelson
Jason Charles-Nelson
I am a professional musical director and composer, specialising primarily in tonal music and soundscape design. My works are rather eclectic, in that there is no commonly occurring theme amongst them in terms of style or genre. Having had the opportunity to gain plenty of experience from working in my specialist field whilst studying for my bachelors degree, I have rapidly acquired a vast amount of skills and music-related knowledge, particularly from a creative and performance-related perspective.
Primarily a skilled pianist, I have been fortunate enough to tour with various ensembles, performing in countries across Europe and the Caribbean, on renowned stages such as the Royal Albert Hall and ITV's "The X Factor".
With an advanced understanding of the capabilities of varying instruments, I am capable of operating within any musical genre to a high level of proficiency, as well as directing performers and ensembles in the same manner.
Thanks to years of experience in learning to operate music production software such as Logic Pro (and Pro Tools), I am fully adept at autonomously carrying out the recording process by way of digital production, an invaluable skill in this modern age of music. My experience in teaching and tutoring various students has greatly aided my ability to communicate ideas in a clear, comprehensible manner, a skill which further qualifies me as a capable director, along with my immediate work history in musical theatre.
Read Bio