Back to groups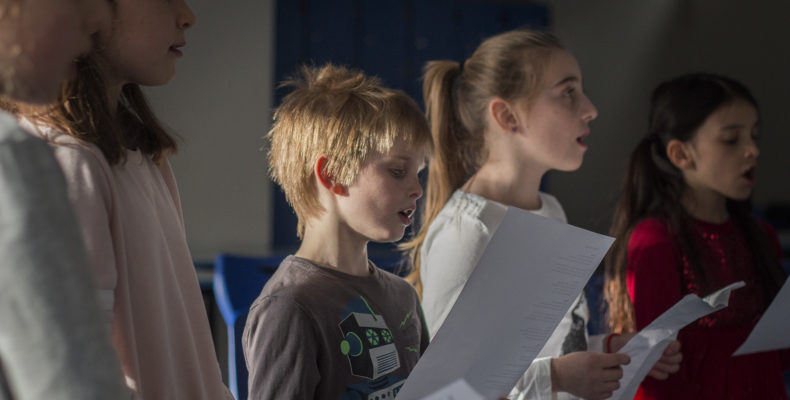 Choirs
Choir 1
Fun selection of educational and silly songs to explore our voices and get first experiences in singing in a group, mixed in with movement games and Orff elements.
Choir 2
Great way to start developing vocal skills, musicianship and general love for music. The repertoire includes rounds, folk tunes, pop songs and music especially written for us!
Choir 3
Great way to start developing vocal skills, musicianship and general love for music. The repertoire includes rounds, folk tunes, pop songs and music especially written for us
YMM Voices
Intermediate level. We will be exploring different genres from contemporary pop to jazz. We will focus on vocal technique, explore grooves, take first steps in improvising and even build confidence towards solo singing and microphone experience. Short audition required.
Teachers

Dina Azzam
Dina Azzam
Dina works across a variety of genres ranging from Jazz to Contemporary Music. She holds a master's degree in Jazz Vocals from the Hochschule für Musik Carl Maria von Weber Dresden in Germany, specialising in methodology and didactics of the voice. She has over 15 years of teaching experience and is currently teaching Jazz courses at the City Lit Institute in London, has taught at the Vocational College for the blind and visually disabled in Nuremberg and was head of the 'Freie Musikschule Music Loft', Aachen.
She has worked with students of all ages and levels in a variety of musical genres. Dina's main focus is giving the necessary technical and musical tools to sing with confidence and ease.
Dina teaches the Junior Choirs, Adult Beginner Choir and is available for individual lessons.
Read Bio
Horacio López Redondo
Horacio López Redondo
Our choral accompanist, Horacio López Redondo, is a London-based accompanist and chamber musician who performs extensively in the UK and Spain.
Horacio (Talavera de la Reina, Spain) began his musical education, which eventually led him to join the Conservatories of Ciudad Real and Madrid, at the age of 5 years old. In 2007 he finished at the latter his degree in Piano Interpretation under the direction of Ms Ana Guijarro and his Vocal Accompaniment specialization under that of Mr Juan Antonio Álvarez Parejo. He then joined the Royal Academy of Music in London to follow his higher education, enrolling in the MA Piano Accompaniment program with teachers Mr Malcolm Martineau and Mr James Baillieu. He graduated in 2013 with Distinction. In 2013, Horacio was Highly Commended in the "Christian Carpentier Prize" to the Best Piano Accompaniment Exam at the Royal Academy of Music. Also in 2012 he was awarded the Accompanist Second Prize at the "Ludmilla Andrew Russian Song Prize", held at the Royal Academy of Music. He has accompanied several award winning singer colleagues in competitions held at the Royal Academy and the Wigmore Hall in London.
Since his arrival in London in 2010, Horacio has performed as an accompanist at some of the most prestigious London venues, including St Martin in the Fields, Blackheath Halls, St. James' Piccadilly, King´s Head Theatre and Southwark Cathedral; but also in other parts of the country such as Canterbury Cathedral, Bristol Cathedral or "The Venue" at Leeds College of Music. 
Horacio has taken part in all four editions of the London Spanish Song and Zarzuela Festival since its beginnings in 2014, performing at St James' Piccadilly and St Botolph's-without-Bishopsgate, where he is also a regular performer in the popular series Song in the City. Horacio is also a creative performer whose show "A night in Seville", mixing operatic numbers and songs set in the Spanish city, had its most recent outing in St Martin-in -the Fields in September 2017.
From Robert Hugill's blog Planet Hugill: "Horacio López Redondo provided fine accompaniment, sympathetic to the way the music moved from pure Latin American rhythm to something more modern"
Read Bio

Jason Charles-Nelson
Jason Charles-Nelson
I am a professional musical director and composer, specialising primarily in tonal music and soundscape design. My works are rather eclectic, in that there is no commonly occurring theme amongst them in terms of style or genre. Having had the opportunity to gain plenty of experience from working in my specialist field whilst studying for my bachelors degree, I have rapidly acquired a vast amount of skills and music-related knowledge, particularly from a creative and performance-related perspective.
Primarily a skilled pianist, I have been fortunate enough to tour with various ensembles, performing in countries across Europe and the Caribbean, on renowned stages such as the Royal Albert Hall and ITV's "The X Factor".
With an advanced understanding of the capabilities of varying instruments, I am capable of operating within any musical genre to a high level of proficiency, as well as directing performers and ensembles in the same manner.
Thanks to years of experience in learning to operate music production software such as Logic Pro (and Pro Tools), I am fully adept at autonomously carrying out the recording process by way of digital production, an invaluable skill in this modern age of music. My experience in teaching and tutoring various students has greatly aided my ability to communicate ideas in a clear, comprehensible manner, a skill which further qualifies me as a capable director, along with my immediate work history in musical theatre.
Read Bio