Back to groups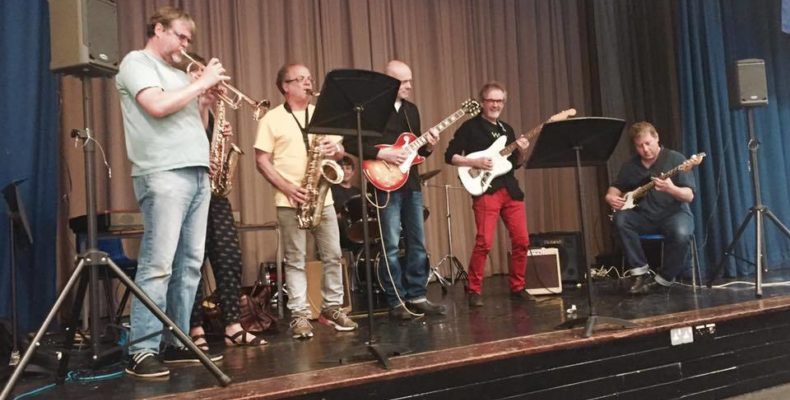 Adults
YMM Community Choir
Singing is for EVERYONE!
We invite you to join with members of your local community in singing together, feeling positive and making connection. This choir will be lead by our fabulous piano and music box tutor, Jason Charles-Nelson.
All ages and levels are welcome, so bring your child, your grandma and your nextdoor neighbour!
Adult Jazz Choir
This is a relaxed and informal singing group where we sing a range of songs, some in unison, some in harmony. You do not need to be able to read music and or have any previous singing experience. We learn the basics of singing technique, build our vocal confidence and improve our musicianship skills through exploring songs from different styles of music.
Adult Drumming
Join the drum circle on a journey through world rhythms and grooves. Students are encouraged to bring their own djembe.
Flute Ensemble.
An intermediate to advanced group exploring flute quartet and quintet repertoire, for mixed ages.
Adult Instrumental Group
A mixed woodwind group working on jazz and classical repertoire.
Adult Recorders
This group of musicians explore many styles of chamber music in a lively and friendly atmosphere to a high standard.
Adult Rhythm 'n' Blues Band
Get back to your rock 'n' roll roots with this adult group focusing on developing band and improvising skills. We welcome electric guitars, bass, drums and horns. Singers welcome by invitation.
Theory Support
Bob Payne will support mixed-ability students as they work towards a grade 5 theory exam. The class will use the ABRSM grade 4 & 5 theory books, combining theory and aural for a more holistic approach to learning.
Anyone who is doing GCSE music or grade 5 theory needs to be on this course!
Cello Ensemble
Love the bass end of life? Cello group is for you! Grade 3 - 8+, you are welcome to come along and play a huge variety of repertoire that is written or arranged specifically for cello ensemble.
Jazz Ensemble
A small, intermediate, jazz ensemble that focuses on jazz improvisation - swing, bebop, etc.
For ages 18yrs+
Teachers

Jason Charles-Nelson
Jason Charles-Nelson
I am a professional musical director and composer, specialising primarily in tonal music and soundscape design. My works are rather eclectic, in that there is no commonly occurring theme amongst them in terms of style or genre. Having had the opportunity to gain plenty of experience from working in my specialist field whilst studying for my bachelors degree, I have rapidly acquired a vast amount of skills and music-related knowledge, particularly from a creative and performance-related perspective.
Primarily a skilled pianist, I have been fortunate enough to tour with various ensembles, performing in countries across Europe and the Caribbean, on renowned stages such as the Royal Albert Hall and ITV's "The X Factor".
With an advanced understanding of the capabilities of varying instruments, I am capable of operating within any musical genre to a high level of proficiency, as well as directing performers and ensembles in the same manner.
Thanks to years of experience in learning to operate music production software such as Logic Pro (and Pro Tools), I am fully adept at autonomously carrying out the recording process by way of digital production, an invaluable skill in this modern age of music. My experience in teaching and tutoring various students has greatly aided my ability to communicate ideas in a clear, comprehensible manner, a skill which further qualifies me as a capable director, along with my immediate work history in musical theatre.
Read Bio

Meadow Brooks
Meadow Brooks
Meadow is a passionate educator and has experienced first-hand how transformative inspirational tuition can be. She is committed to the accessible and inclusive delivery of music education. She is regularly engaged by the Orchestra of the Age of Enlightenment's Education initiative, Royal Academy of Music Junior Department, London Chamber Orchestra, Camden Music Service, City Lit Adult College and the National Youth Orchestra; delivering workshops across the country for their renowned Inspire programme. She's also a Benedetti Foundation ambassador and has worked with the Wigmore Hall, Hold the Drama and Percworks, the UK's leading online percussion education platform.

Meadow was a Category Finalist on the BBC Young Musician of the Year competition and has presented solo recitals at the Budleigh Salterton Music Festival and RAM's inaugural Student Create Festival as well as attending the Dartington International Summer School as a Jazz Scholar, touring the UK with Street Orchestra Live and performing at Glastonbury Festival (2013/2019/2021).

She has worked alongside the BBC Concert Orchestra (BBC Proms), London Contemporary Orchestra (BBC3 live recording), Cambridge Opera Society, Australian Bushfire Benefit Orchestra and the Southbank's Mighty River Project. She performs regularly with the Pegasus Opera Company, Orion Orchestra, Norfolk Symphony Orchestra and Odyssey Festival Orchestra.

Meadow is in the last year of study for her BMus(Hons) at The Royal Academy of Music, where she will be completing an intensive Master's degree in 2023-24. During her studies, she's performed with the Symphony Orchestra under John Wilson and Ludovic Morlot, as well as with the Royal Academy Opera and Musical Theatre Company. She's also been involved in contemporary/chamber projects, including performing with the Manson Ensemble, alongside the Riot ensemble, recording an album for Linn Records under the leadership of Barbara Hannigan, collaborating with students of the Julliard School and even premiering a new work for solo vibraphone in association with the RAM's 200 Pieces collection.

Read Bio

Martina Mihulkova
Martina Mihulkova
Martina is a versatile flute player and enthusiastic teacher from the Czech Republic. She trained in Classical Flute and Jazz Flute Performance at the Guildhall School of Music and Drama. She has freelanced with orchestras, touring the UK with Czech National Symphony Orchestra, or Scandinavia with City of Prague Philharmonic Orchestra, and playing flute and piccolo in theatre pits in ballet and opera productions. Exploring her interest in groove and improvising, she is currently specialising in Brazilian music, performing with Rhythms of the City samba band as a percussionist and with Offbeat Collective as a flautist.
She has taught students of different levels and ages, helping them achieve their musical goals and discover their creative potential. She has lead creative music workshops for The Music FunDation in Prague and taught a seminar on Creativity in Music at the Teplice Conservatoire.
Read Bio

Tom Ridout
Tom Ridout
Award winning saxophonist and recorder player Tom Ridout was predicted by Jazzwise Magazine in 2012 as an upcoming jazz musician to watch out for. A finalist in the 2016 BBC Young Musician Jazz Award, graduate from the prestigious Royal Academy of Music, winner of the Lancaster Jazz Festival Youth Jazz Commission 2018, Help Musicians Peter Whittingham Jazz Awardee 2021, and a recent member of NYJO, Tom is a prolific composer who fronts his own bands playing his original compositions.
Read Bio

Thomas Pickering
Thomas Pickering
Thomas is currently in his final year studying in London, at the Guildhall School of Music and Drama. His principal instrument is the recorder, but he is also a talented baroque flautist, as well as an early keyboards player.
As well as being a dedicated educator, he enjoys a busy schedule filled with exciting performance opportunities. Recent highlights have included playing in the ENO's Olivier Award winning production of 'Noye's Fludde', as well as playing alongside members of The Academy of Ancient Music in a series of concerts and touring with Opera North as the Principal Recorder player for a production of 'The Greek Passion'. He also successfully auditioned and completed the Wigmore Hall's Chamber Tots scheme, leading educational workshops for toddler and young children.
Over the last three years, Thomas has taken part in lessons and masterclasses both as a soloist and as part of an ensemble with various people, such as Maurice Steger, Rachel Podger, Karel van Steenhoven and Dorothee Oberlinger. In his first year at GSMD he was selected to play the principal recorder part in the school's opera; a production of 'Venus and Adonis' by John Blow, and has since been asked to play again for both Charpentier's 'Orphée descendant aux enfers' and Carissimi's 'Judicium Salomonis'. He has also toured across Austria and Switzerland as a member of the critically acclaimed ensemble Apollo's Cabinet, playing both the recorder and the harpsichord.
As well as performing, Thomas is a keen arranger and composer, and was commissioned by The Worshipful Company of Woodturners to compose a fanfare for the Lord Mayor of London, which he had the opportunity to perform and present to the Lord Mayor on multiple occasions.
Read Bio

Martin Ellins
Martin Ellins
Martin has had a wide and varied playing and teaching career spanning 20 years. His playing ranges in style from classical to rock though blues and jazz. Martin studied at the London College of Music, achieving an ALCM and LLCM. Since then his playing has taken him to the Greenwich, Cheltenham and Saddleworth Festivals.
Martin has also played on BBC Radio, Shanghai Television, the Amsterdam Hilton and for various West End shows. He has also been involved in producing tapes for education.
Read Bio

Jennifer Sturt

Reuben Fowler
Reuben Fowler
Reuben Fowler is a 27 year old jazz trumpet player, composer, arranger and teacher based in London. He is currently the trumpet player for Paloma Faith and Culture Club, and has also performed with an array of artists including Noel Gallagher and Texas. As a result he has performed at some of the most coveted venues and festivals worldwide including the BBC Proms at the Royal Albert Hall, The Hollywood Bowl (Los Angeles), the New Orleans Jazz Festival, Montreux Jazz Festival, Glastonbury and the North Sea Jazz Festival. Reuben has also worked extensively as a session musician and his performing credits include the BBC Big Band. Worldwide, he has played on broadcasts including: Jools Holland's Annual Hootenanny, The Jimmy Kimmel Show, The Jonathan Ross Show, Alan Carr Chatty Man, Taratata, and Live at the Palladium.
Reuben Fowler graduated in 2012 from the Royal Academy of Music, winning the Kenny Wheeler Award for composition and performance and the Musicians Benevolent Peter Whittingham Award. He also won the John Baker Memorial Award for brass.
Following the online success of the Facebook page Trumpet Tuesday; which is co- managed by Reuben alongside two other Royal Academy of Music alumni, he was asked to lead a group masterclass for the jazz and classical brass students at his alma- mater in 2016. Prior to this, he had also taught the Jazz Ensemble at the National Youth Jazz Orchestra. 
In 2013 Reuben Fowler wrote and arranged, rehearsed and recorded his own big band as part of a trans-atlantic recording project called Between Shadows, featuring jazz legends Tom Harrell, Stan Sulzmann and Jim Hart. The project later resulted in Fowler being cited: "...maybe the most exciting and accomplished trumpeter to emerge on the British Jazz scene.."
Read Bio