Back to News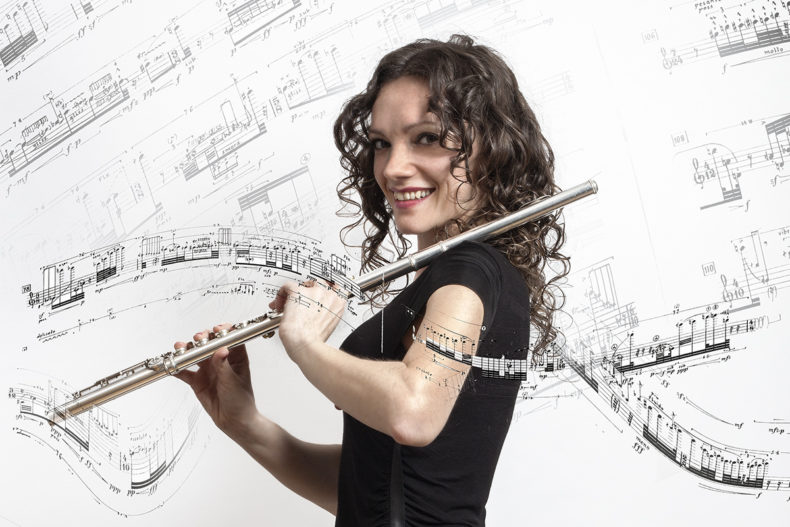 Sara Minelli Launches Her Debut Album
On International Women's Day 2018, we are thrilled to support our flute tutor, Sara Minelli as she launches her debut solo album. As she told us in her Tutor Profile, recording took place in Italy in the summer of 2016 and now she is launching a campaign to crowdfund the album launch.
Over to you, Sara...
NEW RESONANCES is my debut solo album and I am extremely excited about its forthcoming release! 

The album contains contemporary works for solo flute, alto flute, flute and electronics. Alongside pieces by Brian Ferneyhough and Salvatore Sciarrino, whose research on my instrument has been extremely important, the disc includes brand new works written especially for me and my album project by fantastic composers from the UK and Italy.  
 The composers who wrote the new pieces are outstanding: they are Jonathan Cole (Prof. of Composition at Royal College of Music, London), Alessandro Solbiati ( Prof. of Composition at Conservatoire "G. Verdi", Milan), Matteo Giuliani ( one of the most talented young composers in Italy!) Alessandro Magini (Prof.  at Academy of Dramatic Arts in Rome).  I got signed for this project by EMA records, a fantastic Italian label specialising in Contemporary Classical Music.  All the costs for the recording and editing sessions, mastering, booklet are covered by them! 
The project is particularly important for me because it's my very first album and  I am extremely passionate about the music which I have recorded. I would love for you to hear those amazing pieces. Most of them have never been played live or recorded before!  The project brings together contemporary music from my two countries (Italy and the UK).
The whole recording process took a lot of hard work in terms of practice, rehearsals with the composers, recording sessions .. (I live in London and EMA records are in Florence, which means that there's been  quite a bit of travelling involved.. but I don' t regret it at all!). 
The composers attended the recording sessions which was very inspiring! 
I am organising a CD launch in London!
The launch will consist of me performing some of the works contained in the album.  The composers will attend the event and I will give the world premiere of their new works. 
I am raising funds for:
 The Venue hire (Estorick Collection, London) = £400
The PR (Bright Ivy ) = £1500
The physical CDs = £500
Technical equipment hire and merchandise design= £400
Any extra money will go towards drinks and the expenses of the composers and the producers who will travel from Italy to attend the launch.
You can support Sara's campaign HERE and please... share share share!